Statistics
We have
28
registered users
The newest registered user is
callousdiva11
Our users have posted a total of
1093
messages in
194
subjects
Who is online?
In total there is
1
user online :: 0 Registered, 0 Hidden and 1 Guest
None
Most users ever online was
20
on Fri Dec 06, 2013 3:09 am

This is the character I wish to play, she's called Sphyria [Sssss-feee-reee-ah, sort of all in the pronunciation].
She originally comes from a game on facebook, SuperHero City.
I worked hard and customised her to the point where she's just awesome, and I would really like to have her as my Elf!
She doesn't have pointed ears, even if you can't see them, can we pretend she has or doesn't it matter?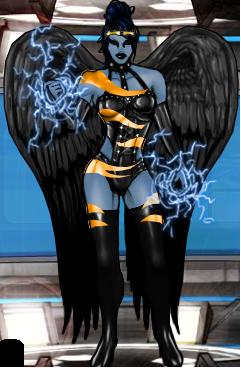 -SailorSilvanesti
Ugh!
How do you choose where to live?
I'm torn between Dwemer, Fiacre and Asterea!
They're all so awesome!
FAIL!

Guess what I forgot?

Name: Sphyria
Age: 137, human equivalent, 18 or so.
Race: Elf

Gender: Female

Homeland: Fiacre

Class: Warrior

SubClass: Black Mage?

Elemental Affinities: Fire/Lightning/Water

Primary: SkyFire/Lightning
Secondary: Fire [Fire-proof]
Tertiary: Water -Limited control, basic skills as weaponry.

Strengths: Warrior, exceptionally strong with blades, basic archery, strong magical affinity with Lightning [electricty] and Fire. To a lesser extent, Water, can use it in defence.
Quite Intelligent. Extremely Strong -both mentally, physically and willed!
Wings enable flight - though long periods of flight are draining.

Weaknesses: Finds Shield usage too cumbersome and this often leads to injury. Basic tracking skills could be improved with archery, cannot fly great distances unless in company of Air Elementals/Someone with affinity for air currents, who can give good 'updrafts' so flight is not so taxing.
Quite Impulsive.

Battle Style: Combination of Blades and magic in battle. Often reckless and impulsive, Battle Strategy includes the words "Fight First, Talk Later!" -BattleCry- then race into battle.
Can conjour Storms, due to combined Skyfire/water control -can't create whipping winds, no control over air- can direct ligtning or project it from fingertips/as orbs.
Generally requires Fire or Water source nearby to use either element as projectile weapons.
Sphyria prefers to take on the enemy physically before attempting magical attack. Rarely uses wings for battles, unless sneak attack requires her to fly over and shoot arrows down on defenceless enemy, not preferred style.

Appearance:See picture above. Constant battle armour, comfortable, form-fitting.
Dons cape for formal occasions, but can rarely be persuaded to take it off, dismissing all attempts to get her into a dress as 'frivilous'.

Personality: Strong willed, impulsive, reckless, has zest for life that surpasses that of most. Courageous, loyal, protective, will throw herself in front of a sword/arrow/projectile for a friend.
Takes pride in her hair and appearance, secretly likes shocking people!
A tad quirky, she likes to get even with those that have wronged her [in a non-serious way] through pranks - how would you like pink hair for a month?

History: Born on a world far from this, where another Crystal Ship had landed on a hostile world, to their regret. The world Tremaras.
It was not the race that inhabited it, no, they tried to help the beautiful strangers in vain, but the planet itself that was killing them!
It sapped at their strength and will to live, magic seeped from the 'Starcomers' [as the Tremarians called them] with every breath, but the newborn infant -Recognition child of the leaders Jai'ahad, and his mate Ghiha- was immune.

To save her life, their precious child Sphyria, the Starcomers -all 8- used the last of their magical energy to craft a small ship from the wreckage of their Crystal ship. Sealing the infant and a female child, T'ylah -who had been gifted with immortal life- into the protection pod, under a protective, healing sleep.
They sent the vessel to the stars, watching it streak off into the distance, following the trail of another Crystal Ship they had seen land nearby.
The last of the 8 Starcomers died that night.
But with death, came hope, for the pod reached the isle of Asterea!

Where she was cared for, her gifts of Elemental magic were nutured to semi-fruoition, till Sphyria grew bored with their peaceful ways and set off for adventure with her [Now fully grown into an exceptionally attractive woman, with battle skills to match that of Sphyria herself] Companion, T'ylah.

No idea where I am now, trying to choose!



Site Connections: MrsGrizzley on ElfQuest.com/Lei'Ahree, posted a blog about the site and I decided to join.
Always wanted to be in a Holt Tribe!

Last edited by SailorSilvanesti on Sat Aug 14, 2010 8:55 pm; edited 1 time in total
Okay, couple things. Dwemer is a race not a Nation, so the character can be Elf or Dwemer or Halfblood, in which case she'd still have the Dwemer red hair and green eyes. Crystalborn is an aspect of Race, it means that she's descended from one of the Races that arrived on Artegal with the Crystals. Those are the Cravat, Moogles, Elves, and Dullahan.

As an Elf, she's definitely Crystalborn.

Astraea is a good one because that's where the primary Crystal stands, but the other Nations have potential. Fiacre could be interesting, really, because of those wonderful living Trees. I'm planning to build a tribe of Liondog Riders based there at some point.

But it's up to you.

Magic on here is done through spells that perform specific functions. Some of those abilities would be spells. It's different from the way that ElfQuest handles magic, but some of the abilities transfer. It's based more on the magic system of Final Fantasy and some tabletop RPGs. If you want some suggestions for spells and things both myself and Masurao are good at making things work, don't be afraid to ask.

As for the wings, she's obviously had the benefit of a Shaper somewhere, which is cool. Lei'Ahree's played with having a Mermaid's fin on more than one occasion.

I kinda like the history, actually, in a Superman/Kal'El kinda way.

The choice of Primary or Secondary Classes is a matter of which you want her to be stronger in. If Black Mage then her bonus slots will be Spells and she'll be stronger in magic. If Warrior then the slots will be Weapon Skills and she'll be stronger in combat.

So far she's looking good.
_________________
[/center]
Admin




Posts

: 239


Points

: 136


Join date

: 2010-01-06


Age

: 43


Location

: The Aether of the Internet

Character sheet
Progression Points:


(0/1000)



Homeland: Fiacre

Class: Warrior

SubClass: Black Mage

Spells: Not so sure...Fire/Lightning [Storms] and Water, what can I use for them?
She can summon storms on her own and channel lightning, but she'll require these spells to control Fire and Water in any more than basic functions.



Okay, lemme introduce you to the Edit feature. *grin* I use it ALL the time.

There's a little pink button on the corner of your post that's labled "edit". If you press that button you can add and change things to your posts.

You can use that feature to edit your actual template to include that information. It's REALLY helpful
_________________
[/center]
Admin




Posts

: 239


Points

: 136


Join date

: 2010-01-06


Age

: 43


Location

: The Aether of the Internet

Character sheet
Progression Points:


(0/1000)





Similar topics
---
Permissions in this forum:
You
cannot
reply to topics in this forum