Statistics
We have
28
registered users
The newest registered user is
callousdiva11
Our users have posted a total of
1093
messages in
194
subjects
Who is online?
In total there is
1
user online :: 0 Registered, 0 Hidden and 1 Guest
None
Most users ever online was
20
on Fri Dec 06, 2013 3:09 am

Name: StarJumper
Description: Starjumpers [Puddlejumpers, Stargate: Atlantis] are ships with a flat base, it is approximately ten meters long [or slightly more] and the cabin compartments are in a half-circle arch formation [See Below].
These ships can only be flown by someone with 'the Gene' [referred to as the ATA Gene], as it directly interfaces with it's pilot.
Anyone can be a co-pilot or operate other instruments/functions; there are two compartments within the long semi-cylinder of a ship.
Forward and aft, the back is a cargo/extra seating area; Up to twelve people can sit there comfortably [six on either side].
The only entrance/exit is at the back, the entire back 'panel' of the ship is a hatch that extends [either with thought or the manual [and emergency manual] releases.
In the front of the ship [seperated from the aft section by a strong set of pressurised doors that can seal oxygen in] is the control center. It is a very small space, but can provide for up to four people.
Two seats are at the front control panel, the pilot and co-pilot's seat; the pilot must have the ATA Gene or the ship goes nowhere. Those with the gene can request maps, information and/or acces critical systems with a thought; also flying the jumper, which is a combination of touchpad manouvring and thought-control.
The other two seats can occupy passengers or, if fully staff, two other crewmembers who can take individual responsibilities, such as monitoring vital functions and communications.
The ship is propelled by two 'Drive-pods' [can also be called Engine-pods] which expand and retract into the sides of the ship, with a thought. On these engine pods is a full arsenal of Drones, [shown below].
These Drive-pods also act as stabilisers and each ship has built-in inertial dampeners, meaning that the only time a ride in the StarJumper
should
be turbulent is if it's broken, you're being shot at, there are natural forces against you [massive storm], -you left the handbrake in *facepalm* position- or you forgot to engage Inertial Dampeners.
Transport Medium: Air, Space and Water -No land capacity.
Capacity: 4 personnel can sit in the forward compartment [in seats pictured below] and attend the consoles [piloting, navigation] but generally, only 2 are needed.
Approx. 6-12 can fit in the back compartment, with harnesses for safety.
...Would easily fit a Dragon Hatchling and Unicorn...
Armaments: Drones; thought controlled [at least initially, when fired] missiles, devastating in explosive force, rarely used except in extreme self-defence [or against the Wraith...].
See Below.
History: Originally hidden amongst ancient ruins on the central island of Asterea, discovered when the young pair T'ylah and Sphyria [both physically about 13] stumbled upon a cave beneath the surface.
It seems an ancient race of people, known only as the "Ancestors" lived on a world nearby and had crash-landed here in an attempt to flee something called a Wraith.
The blue and green pair had explored the ship, it was buried deep beneath the island, two people lay frozen in eternal sleep on the floor, their bodies preserved by the ship's lack of temperature control.
The T'ylah had touched a console and it flared to life, she freaked and jumped back, it quietened; Sphyria gingerly reached out a blue hand to touch the console...
It roared to life, engines humming in excitement, hand off, ship off, hand on, ship on, hand off...
After hours of on and off, the pair decided to see if they could get it to move, both placing a hand on the glowing console and thinking hard, "Fly...please?"
The Enginepods found enough space in the tunnel it had created on re-entry to extend the Drive Pods and threw itself into full reverse.
Life Support and lights flickered on as the girls were pressed against the forward viewing screen, the ship breached the surface -to the amazement of the crystalborn on the island- and hovered to a perfect stop, parallel to the waves beneath it.
The bodies were buried with much ceremony, and many were disappointed to learn they could not make the 'StarVessel' move, only, it seemed, the girls could control it.
From that moment on, Sphyria and T'ylah learned to work it, knew it's circuitry intimitely and gained full access of it's systems.
Christening it "StarJumper 1", they left Asterea to explore the world with their Bond-creatures, Midnite and Brightstar.
And so it began.
Pictures
JUMPER
Battle/StarJumper 1
Schematics
Interior [Forward Section]
Interior [Back Compartment -looking towards front compartment]
DRONES
Drone Schematics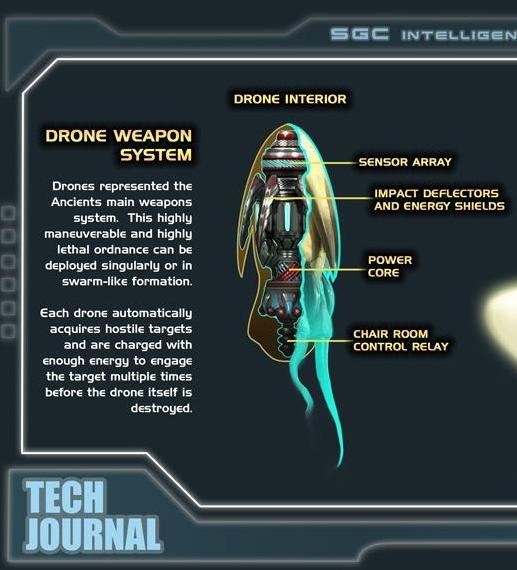 Drone Armed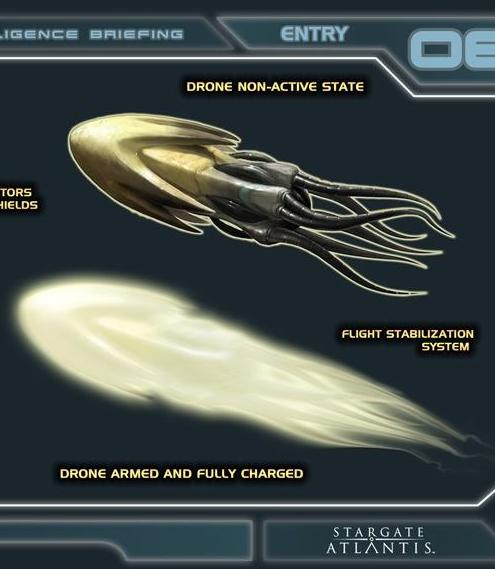 Okay, technically this is supposed to be on hold until you have 100 Points.

I'm not sure what to think about the Armaments you've got set up for this because I think they *might* be a bit excessive, but I'm wholly unfamiliar with the source material that you're drawing from on this.

For the record, I'll let you use this for transport into threads on various Nations, but be VERY careful how you use it and when you reach 100 points we're going to go over it with a fine-tooth comb unless you have a better idea for a vessel by then.

Conditionally Allowed
_________________
[/center]
Admin




Posts

: 239


Points

: 136


Join date

: 2010-01-06


Age

: 43


Location

: The Aether of the Internet

Character sheet
Progression Points:


(0/1000)



Ever watched 'StarGate: Atlantis?'

They use these 'PuddleJumpers' to explore other worlds through the Stargates, -which are basically connected wormholes that can take you anywhere there is another Stargate, even another Galaxy!
But only if you have the co-ordinates!


I won't use the drones [weapons], there won't be any call for them until much later on -when the dragons invade Fiacre ...can I have that as a storyline?- and I'll probably have my 100 points by then.

FYI- How many points do you start with & the MP, thingys?
Actually, no, I don't watch the Stargate series, any of them. I saw the movie, though, the one that everything was based off of, loosely.

And I don't see why we couldn't arrange for Dragons to invade Fiacre at some point. *chuckle* There needs to be *something* to happen there, but it's going to be a while because we're going Nation by Nation.

At the moment you've got one Point. You get them from Posting in RP, but not from creations or such. There's a Progression chart for MP in the Spells section, specifically in the Magics Template. At the moment you have 20 MP and 10 SP.

That help?
_________________
[/center]
Admin




Posts

: 239


Points

: 136


Join date

: 2010-01-06


Age

: 43


Location

: The Aether of the Internet

Character sheet
Progression Points:


(0/1000)




---
Permissions in this forum:
You
cannot
reply to topics in this forum