Statistics
We have
28
registered users
The newest registered user is
callousdiva11
Our users have posted a total of
1093
messages in
194
subjects
Who is online?
In total there is
1
user online :: 0 Registered, 0 Hidden and 1 Guest
None
Most users ever online was
20
on Fri Dec 06, 2013 3:09 am

Name: Laharl
Age: 1313 *looks only to be 14
Gender: Male
Race: Demon
Appearance: Laharl is a demon that looks to be a young adult who stands only four and a half feet tall, he has pale white skin, bright red eyes, pointed ears, and his teeth have two fangs that are a bit like a vampires. He weights only ninety pounds and has short blue hair that have two antennas made of hair, he wears a pair of red sorts that he has rolled up and he got a brown belt on. He has two red shoes as well but he doesn't wear a shirt at all, to finish up his look he wears a large red scarf around his neck that seems to have a mind of its own based on how it moves around. He also has a metal band made of gold around each wrist with a small golden choker around his neck.
Class: Warrior
Subclass: Red Mage
Elemental Affinities:
Primary:
Gravity
Secondary:
Poison
Tertiary:
Earth
Strengths: Laharl my not look like it but he is in fact very strong as he could easily pick up a Steam Golem and lob it at a person to cause them harm, he has high physical endurance so it would take a while to get him to give up with just normal attacks, and his speed is pretty good too though a thief could out run him.
Weaknesses: Laharl is not very good with magic as well....he can use it but don't expect his spells to be as elegant or complex as say...the spells Advocat uses. He simply smashes you with a fireball if he has one, not art but it gets the job done. He is not very good with magical damage either as he is quite weak against magical spells, as it was a trade off for being resistant to physical damage. Laharl also got a few quirky weaknesses such as the fact he is weakened by sexy women and optimistic sayings and even more so if someone mentions love, though they do run the risk of just making Laharl angry and getting beaten up in blind rage.
Battle Style: Laharl likes to fight up close and personal as he thinks that you have to take an arrow or two to win a fight and he loves to win fights, also he isn't the type to use magical attacks but don't think he won't use them if it helps him win a fight. He also isn't above using sneaky attacks to beat up people, but the worse thing to have happen is for him to go berserk on you and attack you with wreak-less abandon.
Personality: Laharl's is incredibly arrogant and always tries to prove that he is the strongest demon in the underworld, he is also very blunt when it comes to things as he will say what is on his mind and not beat around the bush. He isn't the type to enjoy the small peaceful things in life though he will enjoy a nice tasty treat if he is given one, he also has a very bad temper so if he gets upset you better watch out. He is though a demon who will repay any debt he owes as his stubborn pride will not let him try to weasel his way out of a deal or a debt.
History: Laharl was a demon child who was born to a succubus and a Wrath demon, because of the strange mix of his parent he gained the power of a wrath demon yet kept an human like form his mother's side. A fact that has irked him for a while as male succubi take quite a bit of time to grow, but due to his Wrath demon blood he was not in need of souls to feed on as he just needed a lot of meat to eat to live. Due though to his looks he had to toughen up fast as the other demons normally picked on him for his human like appearance, he was able to beat up any other demon though thanks to his stubborn pride and brute strength that could easily make some grown up demons think twice about fighting him.
This sort of life style went on for hundreds of thousands of years for Laharl as he was a well aged demon by the time he had learned all that he needed to learn to be able to torment the souls of the damned. And for a time Laharl was content to beat the hell out of any soul he was given to torment but in time he started to wish he could have someone to fight that wasn't a weak demon, that was when his wishes for such a thing attracted Advocat's attention. As Laharl was digging the heel of his shoe in the eye of some worthless soul he heard a voice in his head ask if he wanted more in life than this, to which Laharl said "Hell ya I am bored with this junk." The voice laughed and opened a small portal to lead him through, this portal brought him to Advocat himself who said "Hello there Laharl." "Who the hell are you?" "I am Advocat and I am the one who called you here." "Ya so what you want?" "I wish for you to work with me, in exchange I will allow you to do what you wish in this mortal realm.......well as long as it doesn't bring me unwanted trouble." Said Advocat as he looked at the young demon.
Laharl rubbed his head a bit then said "So work for you means.......what exactly.......I'm not being your sex toy if you are into that shit." such a comment got Advocat's temper to flare as he hit the boy so hard he went flying into the wall as he said "Do not insult me you little whelp." Laharl dug himself out of the wall and said "Damn what the hell was that......fuck that hurt...." "I am the king of Death Dealers, I am far stronger than normal demons. I wish for you to join me to help me with my bid to gather souls, if you make another rude comment like that again I will make sure to banish you back to hell forever." "OK OK I'll work for you.....sheesh calm down....fuck I think you nearly broke my jaw...." said Laharl as Advocat then bound the boy to his will as now Laharl could stay in this mortal realm as long as Advocat lives.
Pictures:
This is his grown up form: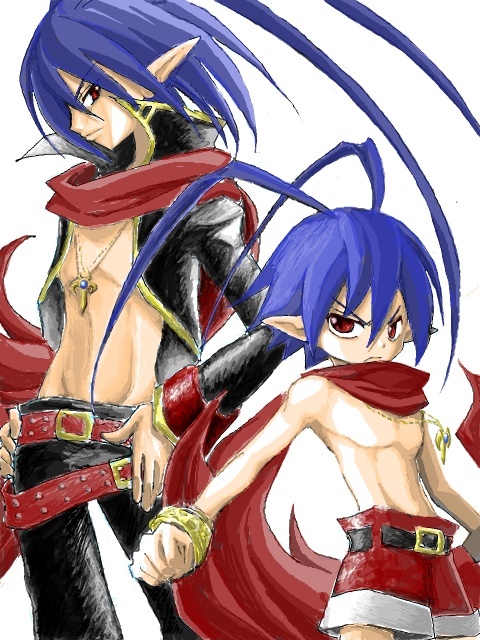 Last edited by Darkness on Sun Oct 31, 2010 5:45 pm; edited 2 times in total



Posts

: 283


Points

: 231


Join date

: 2010-02-09


Age

: 28



Admin




Posts

: 129


Points

: 95


Join date

: 2010-01-06


Age

: 29




---
Permissions in this forum:
You
cannot
reply to topics in this forum